OUR TEAM
Our People – Your Asset
Over 300 People – Only One Mission
Many people today speak of the 'DNA' of a business. As a family business, TRN has a true 'DNA' that drives our entire team to deliver in ways other companies don't.
Machines and capabilities are something all companies offer – but the way in which they are provided is what truly lets you know you're in good company.
TRN's renowned ability to powerfully assist developers in building and supporting communities comes in great part from the firm, family-based foundations we have established in building and supporting our own strong and very diverse company culture.
Our long-serving workforce is made up of several generations of family and employees who are all passionate in delivering on TRN's mission to provide truly superior service, equipment and support for our clients.
This highly skilled and stable base of long-term employees ensures a seamless understanding of all project needs, while the ability to deal directly with family business owners/directors only one management tier removed from those on site means your every project need will be met swiftly and effectively by the tight-knit TRN team.
DIRECTOR / CHIEF EXECUTIVE OFFICER (CEO)
Having been at the very heart of the business since he and his brother Ron established the foundations of TRN Group, TJ & RF Fordham Pty Ltd, in 1966, Terry has played a key role in TRN's exceptional success over the years – and his firm, knowledgeable hand still guides the business in ensuring our customers likewise enjoy exceptional success on every project TRN supports.
While handling the considerable tasks of managing the business and affairs of TRN Group and guiding its continued growth and development, Terry also remains extremely active in overseeing the operational side of the business that has been his life for over 50 years.
This includes control and direction of projects undertaken by TRN, to ensure that production and completion targets are met; verifying that all staff assigned to projects are adequately qualified and/or experienced in their relevant technical discipline to perform the duties of their position; stringently insisting on and promoting company procedures relevant to projects, and ensuring that the highest level of commitment to safety, quality and environment is always demonstrated.
DIRECTOR / GENERAL MANAGER – PROJECTS
A key member of the TRN team since 1994, Glenn now oversees the many crucial facets of TRN's operations that enable us to seamlessly support our clients' projects. Working closely with our General Manager – Operations, David Fordham, Glenn ensures that every requirement on every project has been carefully assessed, planned and is delivered to ensure our clients' success.
GLENN'S RESPONSIBILITIES INCLUDE

To manage the civil construction for clients and ensure that projects are completed within budget and on time.
Review tender documents, resolve any discrepancies with customer and prepare tender.
Carry out final tender review.
Carry out project reviews.
Determine products to be purchased, work to be subcontracted and WHS, environmental and quality criteria applicable.
Approve selection of service providers and maintain register.
Investigate, develop and implement corrective/preventive action measures.
Carry out management review of, and approving, Project Management Plan.
Responsibility for Integrated Management System annual review.
Determining organisation structure and resources for each project.
Inspect and review projects to monitor compliance with building and safety codes, and other regulations.
Interpret and explain plans and contract terms to administrative staff, workers, and clients, representing the owner or developer.
Prepare contracts and negotiate revisions, changes and additions to contractual agreements with architects, consultants, clients, suppliers and subcontractors.
Responsible for the management of all Project Managers, Construction Teams and Staff on all projects.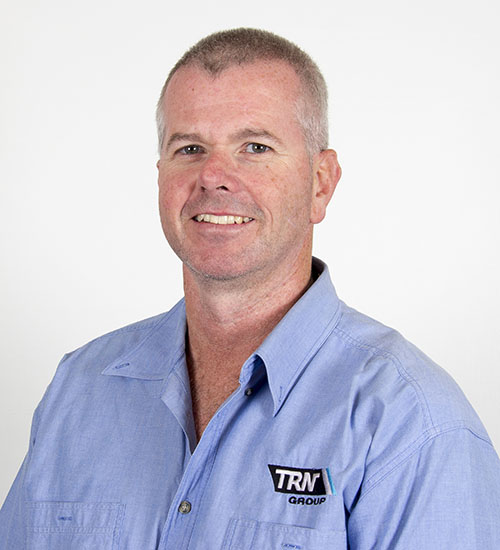 DIRECTOR / GENERAL MANAGER – OPERATIONS
A core member of TRN since 1993, David now oversees numerous aspects of TRN company-wide and monitors resources in conjunction with TRN's General Manager – Projects, Glenn Fordham, to ensure TRN's people and equipment consistently deliver the highest levels of service and productivity for every client.
DAVID'S RESPONSIBILITIES INCLUDE

Allocation of plant, labour & material resources associated with civil construction, haulage and quarrying divisions
Liaise with foreman & project managers with a view to furnishing job sites with optimum resources to complete projects efficiently
To advise the workshop personnel of all obvious defect and maintenance requirements promptly
Assist workshop manager, truck maintenance manager and plant maintenance manager in programming major maintenance items & ongoing scheduled maintenance
Equipment evaluations & fleet appraisal
Manage plant hire aspect of business
Involvement in equipment purchases
Tendering own projects
Submitting expression of interest
Monitoring compliance with safe work procedures
Liaise with Systems Manager to ensure appropriate systems are in place on job site
Involvement in industrial relations negotiations & employee remuneration committees
Administration, enhancement & maintenance of the online resource management system, "Easy Allocate"
Responsible for obtaining permits from the RMS for the movement of oversize and overweight machinery
Coordinate the company's Drug and Alcohol Program, liaising with the external service provider, "Work Options"
Coordinate the allocations area, managing the allocations staff and float drivers to efficiently move equipment and material to sites
Monitor resources in conjunction with General Manager – Projects
Seek new clients and manage existing ones