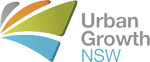 Client:
UrbanGrowth NSW
Superintendent:
Cardno
Value:
$28M
Project Start Date:
August 2016
Completion Date:
May 2018
Location:
Intersection of Renwick Drive and Langley Ave, Renwick (just East of Mittagong)
Scope:
Bulk earthworks and development of 50Ha into a 327-lot residential subdivision. Construction a 9 cell Bebo arch and reinforced earth wall bridge crossing, and one 6 cell wide by 8 cell long culvert bridge crossing. VMP and associated landscaping works.
Innovation:
Bulk earthworks of approx. 400,000m3 cut to fill in ground-water charged strata during formidable weather conditions. Construction two bridges in live creek footprints, requiring detailed excavation for the slab, setting up, survey, pouring and crane-age. Landscaping for the length of the channel using native species.