Macarthur Heights Stage 4 ABC, Macarthur Gardens North & Sportsfield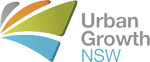 Client:
UrbanGrowth NSW
Superintendent:
JM Daley & Assoc.
Value:
$30.5M
Project Start Date:
APRIL 2016
Completion Date:
In progress
Location:
Goldsmith Avenue, Macarthur Heights
Scope:
Construction of Stage 4A, 4B & 4C civil works, servicing & landscaping, Sportsfield Precinct Bulk Earthworks and Macarthur Gardens North Bulk Earthworks & Creek Realignment at Macarthur Heights.
Summary:
The Macarthur Heights Estate is situated between the WSU Campbelltown Campus, the M5 motorway and Menangle rail corridor. This is the fourth consecutive stage of the development completed by TRN Group. The work includes civil and utility construction of the subdivision and construction of the lead in road from University Drive. This project included the construction of several raingarden features, gross pollutant traps, and sandstone retaining walls.
Innovation:
TRN accommodated and worked around existing telecommunications infrastructure such as aerial optical fiber and a mobile phone tower. This ensured that the project was delivered to the client as rapidly as possible once the services were relocated. TRN also constructed sandstone rock walling to the perimeter of the project in excess of 5m in height.