Macarthur Heights Stage 3 & Lead In Road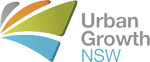 Client:
UrbanGrowth NSW
Superintendent:
JM Daley & Assoc.
Value:
$7M
Project Start Date:
April 2016
Completion Date:
May 2018
Location:
William Downes Avenue, Campbelltown
Scope:
Construction of roads, drainage and utilities infrastructure for Stage 3 Subdivision Macarthur Heights Project and construction of lead in road including the upgrade of existing WSU roadway William Downes Avenue.
Summary:
The Macarthur Heights Estates is situated between the WSU Campbelltown Campus, the M5 motorway and menangle rail corridor. This was the 3rd consecutive stage of the development completed by TRN Group. The work included civil and utility construction of the subdivision and construction of the lead in road from William Downes Avenue. A significant challenge on this site was the existing creek line located in the south western corner and the temporary and phasing works associated. This project included construction of a Bebo Arch structure.
Innovation:
TRN accommodated and worked within WSU campus time constraints to minimize disruptions to the daily function of the campus and its facilities.